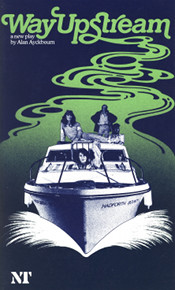 To navigate, use the links in the bar above or in the right hand column.


World Premiere:
2 October 1981

Venue:
Stephen Joseph Theatre In The Round, Scarborough

London Premiere:
4 October 1982

Venue:
The Lyttelton, National Theatre, London

North American Premiere:
24 February 1982

Venue:
Alley Theatre, Houston


Play Number:
27

Published:
Samuel French
Other Media:
Television; radio


Short Synopsis:
Ideally set on a water-filled stage, the play follows a cruiser on the river orb, which is hijacked by modern day pirates. As events spiral out of control and become ever more extreme, can an ordinary couple save the day by taking extraordinary steps?


Availability
Amateur:
Apply to
Concord Theatricals
.

Professional:
Apply to
Casarotto Ramsay
.


Way Upstream
quote

"On any boat, there can only be one skipper. OK? One guy who gives the orders. All right? It has to be that way otherwise it's bedlam. Like it was just now. Now, I don't mind taking the job, I don't mind the responsibility but I must have your support. OK? Make sense? OK?"
Way Upstream: Upcoming Productions

Netflix:
The BBC 1988 film adaptation is currently available on Netflix in the UK.
All research and original material in the Way Upstream section of Alan Ayckbourn's Official Website is by Simon Murgatroyd M.A. and copyright of Haydonning Ltd. All other material is copyright of the named copyright holder. Please do not reproduce any material without permission of the copyright holder. For enquiries, email: archive@alanayckbourn.net